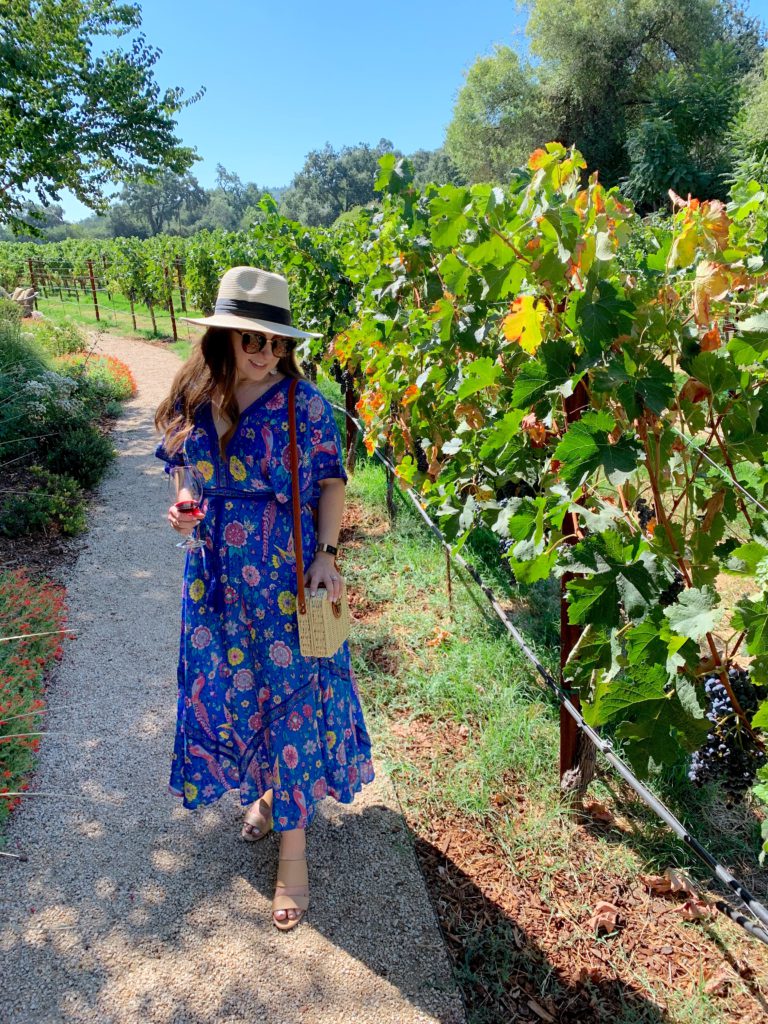 POSTCARDS FROM JESSICA
To: Wine Lovers Everywhere
From: The Heart of Napa Wine Country
Dear Friends,
Pack Your Bags: 
Everybody thinks Napa is just for wine lovers! Even though I'm one of them, I certainly know from our clients that Napa and its surrounding towns have a lot more to offer than just wine tastings. First and foremost, Napa is a foodies paradise! Napa has so many exquisite restaurants you'll never leave hungry. From devouring the more casual "sandwich" at Gott's Roadside to the most prestigious (and expensive!) dinner at Michelin-rated French Laundry, there's always something for everyone. 
The one recommendation I have for any of my clients visiting Napa is to secure a private or shared wine tour. This will not only optimize your day but will also avoid the drinking and driving "conundrum."  
Also, it's wise to mix up your activities so you're not going from one winery to the next, where every glass starts to taste like the one before. Break up your day with an afternoon of massages, go on a hike, take an e-bike tour through the vineyards, or just sit by the pool and sip a cocktail with a good book. 
Your Road (Wine) Tour:
For accommodations in Napa Valley there are some clear winners. I love the Bardessono Hotel for many reasons. But most importantly…Location…Location…Location! I'm sure you have heard these words before and the Bardessono is situated perfectly for touring some of the finest vineyards smack dab in one of the most centrally located quaint towns, Yountville. In this charming town you can enjoy world-class cuisine, shop at upscale boutique stores, or bike the downtown area, all without needing a car.
This hotel is ideal for a chance to rejuvenate, walk the gardens, immerse in the views, and taste the fruit of the vine. Here too you'll be able to enjoy the fine cuisine of "Lucy" an outstanding dining experience where you can indulge yourself with their exceptional field-to-fork menu.   
If you are looking for something with more of a view, look no further than the breathtaking Auberge Du Soleil. Nestled within a terraced, sun-kissed hillside amid 33-acres of heritage olive and oak trees, the hotel's contemporary guestrooms and suites, blend relaxed sophistication with understated elegance.
As for you wine connoisseurs, we have the experience and inroads to some of the best wineries.  My list is long but here are a few of our favorites: Far Niente, Quintessa, Palmaz, Nickel & Nickel, Truchard, and Faust. And for you silver-spoon kind of sippers we have the compass to get you to Cardinale, Scarecrow, Futo, Dalle and Seavy vineyards. 
Hungry yet? Always! Here in the valley the choices can certainly add a few pounds to the waistline. From the best homemade English muffin you will ever taste at The Model Bakery in St. Helena, to the bustling Oakville Grocery for a picnic lunch, to the noted Charlie Palmer Steakhouse in Downtown Napa for dinner, it's hard to miss on any of the remarkable places to dine. There are some wineries that even offer fantastic food and wine pairing lunches and dinners. My absolute favorite is the one at Jospeh Phelps Vineyards. Their culinary experiences are unmatched and I still dream about that taste of Insignia straight from a vintage bottle. 
Wheels Down: 
What's not to like in Napa Valley? Where else can you go in the USA to explore over 400 wineries delivering some of the world's premier wines? I can tell you that every time I'm sipping a great Cabernet Sauvignon from the Napa Valley at home, I'm always reminded of the beautiful and dramatic view of the valley floor from the hilltops of this region. So, whether you are viewing these hills from a balloon ride up above, or in a comfortable chauffeured-driven limousine, I guarantee you can't miss having memorable times here. So, don't "whine" about having nowhere to travel anymore…there is always a good "case" for coming here!     
Wishing You Safe Travels,
Jessica