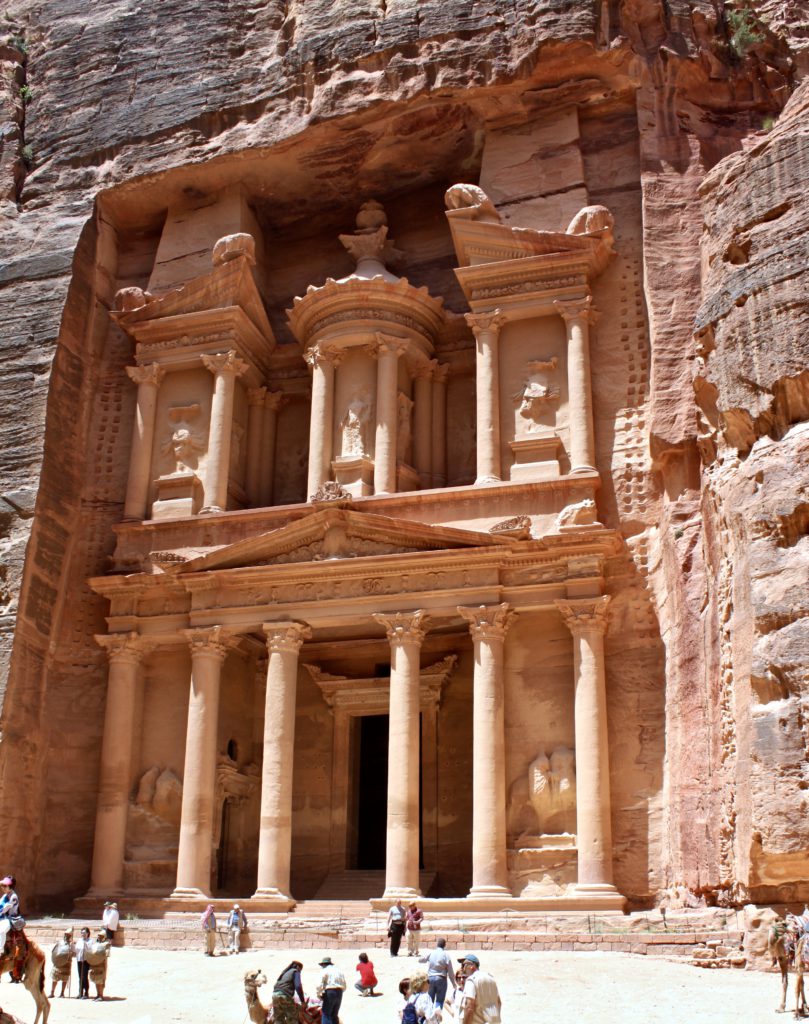 POSTCARDS FROM JESSICA
To: All Wandering Nomads In Search Of Ancient Treasures
From: The "Valley of the Moon," Wadi Rum Desert
Dear Friends,
Pack Your Camel: 
I have a lot of clients that want to visit Israel and I totally agree this is one place you need to get on your bucket list. But, I often recommend that while they are there not to miss visiting Jordan.  Jordan is so easily accessible by road and to miss their UNESCO sites and beautiful terrain is a mistake. Most cruise ships moving through the Red Sea will likely make a port stop at Aqaba for a day or overnight for excursions to Petra and Wadi Rum. Also, most all luxury tour operators will either include or offer extensions to Jordan.
I assure you that once you get to Jordan you'll feel transcended into a terrain and culture that will have you feeling like you're a true Bedouin living a biblical life! From Aman to Petra to the Wadi Rum desert this will be a life changing adventure. 
Your Trail Map: 
Your first stop to Jordan will hopefully be the Dead Sea, so be sure to pack your swimsuit for a dip into the saltiest body of water on the planet, with around 34% salinity. Floating has never been so easy! 
Also, we have to be reminded that the Dead Sea is "dying" and with its waters vanishing at an alarming rate each passing year the possibility of enjoying a visit to its shores keeps receding. For accommodations many of our clients raved about the luxury Mövenpick Resort & Spa Dead Sea.
Regardless if you're arriving in Jordan independently or with a tour group you'll most likely start your adventure in Amman, the capital of Jordan. Even though it might not be the most glamorous of cities, the hilly topography and the flourishing art and design scene will remind you of San Francisco. 
Travel Tip: A great place to park your camel would be the Four Seasons. Perfectly located this hotel delivers stunning accommodation and service. Even the standard or deluxe rooms are beautiful! 
Next stop Petra 
This ancient Nabataean civilization was carved completely out of rock. Dating back to 300 BC this city originated when the Nomadic tribes turned traders settled here for security enabling them to control trade routes. 
Today, there's only one way into the archaeological wonder via a narrow canyon called Al Siq. It earned the nickname of the "Rose City" because it contains tombs and temples carved into the pink sandstone cliffs. 
As you make your forty-minute journey through the stone maze either by foot or by donkey cart, you'll come up to the "big" reveal! Passing into the massive opening you'll witness the famous Treasury. This towering structure was majestically carved into the cliffside. Don't worry, there are plenty of opportunities to collect photographs for your Instagram or Facebook. Don't pass up on the chance to ride the camels directly in front of this biblical structure! 
Travel Tip: Mövenpick Resort Petra is located directly at the entrance to the historic Jordanian city of Petra. This 5-star resort with an oriental flair features 183 luxury hotel rooms and suites plus a wide variety of restaurants for your culinary cravings.
On to The Wadi Rum Desert
Like Lawrence of Arabia you'll venture into the rose-tinted mountains and marvel the desert vistas. Spend the day traversing the desert sands on four-wheel drive vehicles as you comb the landscape in search of a Bedouin village. Once there you will be treated to a traditional Middle Eastern lunch all under the tents of this ancient habitat. Or you can be offered a short ride via camel to roam like the locals. This is an experience you'll never forget!
From One Sea To Another 
You might end your trek with a stop at the Red Sea. If you have the opportunity to visit the port city of Aqaba on the Red Sea you won't be disappointed as a snorkeler or diver. The Yamanieh coral reef that's found in the Aqaba Marine Park is world known for the best views of marine life. 
Wheels Down: 
It was the famous view of the Treasury at Petra seen through the rock corridor of the Siq in Indiana Jones and the Last Crusade that initially sold me on the idea of visiting Jordan. And it was the world-class archeological sites, the incredible desert scenery, the friendliest people, most delicious food, and abundant sunshine that had me confirming my decision was well made. So, while you may not find any of Indiana Jones' treasure while you're there, I promise just visiting this gem of a country is the best treasure indeed.
Wishing You Safe Travels,
Jessica