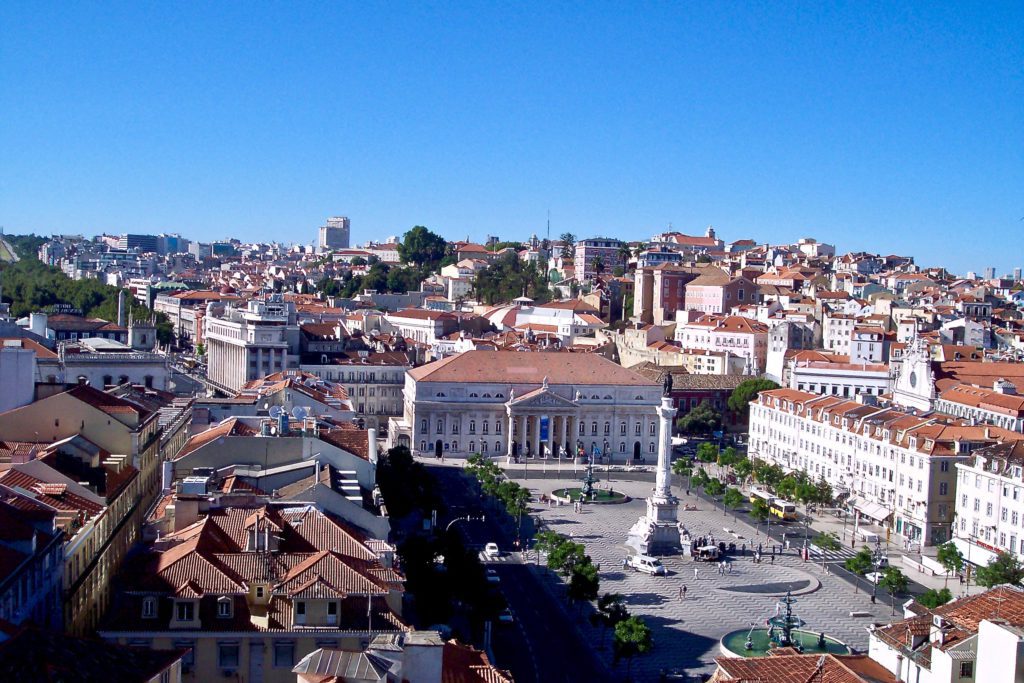 POSTCARDS FROM JESSICA
To: Those Looking For A Taste Of Port
From: A Bistro On The Baixa
Dear Friends,
Pack Your Bags: 
It seems everyone I talk to has longed to visit Spain and I don't blame them. Madrid and Barcelona have to be some of my favorite cities. But for many Portugal is often overlooked or just a stopover from a cruise sailing. From Lisbon to the foothills of the Duro Valley you have a country rich in wine, food, and history. 
When I first got to Lisbon a few years ago, I was fortunate to have friends living there to help pave the way for a true Portuguese adventure. They helped explain the transportation system in Lisbon and helped direct me to the most important and interesting sites. Since they were still very busy in their jobs I was left to trek my own trail in my exploration of this amazing city.  
Your Road Map: 
If you arrive in Lisbon I do have a few great hotel recommendations. One of my favorites is the Hotel Avenida Palace. This hotel is called a palace for a reason. It's striking stone façade and its royal old-world décor will make anyone feel like a King or Queen. But the best feature is its location on the bustling Avenida da Liberdade in central Lisbon. Close walking distance to historical sites and the fact it's in the heart of the Rossio neighborhood mean you won't be disappointed finding for amazing restaurants. 
If you plan to stay outside of central Lisbon you'll find the metro system easy to navigate into the city. It's even a short ride to the Parqued das Nacoes (Park of Nations) area alongside the Tagus River which once was the home of Expo 98. Situated there is the main attraction, the Oceanarium, the largest indoor aquarium in Europe. 
Your Days In Lisbon:
Much of my day was spent walking around the main ancient sites and streets. I must have worn through my tennis shoes exploring the small hilly streets. Whether you walk or take the city trams you can visit the Sao Jorge Castle overlooking center city, go up and down the famous Elevador de Santa Justa built in 1902, visit the Palace of Ajuda,  explore the Lisbon Cathedral or take a short excursion to the Belem Tower a World Heritage Site built in the 1500s to defend the city. 
Your Nights In Lisbon: 
In Lisbon you have many options from quaint hillside bistros to party clubs that go on to the early morning hours. There are basically three nightlife regions in Lisbon each distinctly different from each other. Bairro Alto offers smaller local underground bars and street drinking, Praque das Nacoes caters to more theme bars and finally there is the Santo Amaro Docks which is trendier.
But for you "Foodies" eating out in this Portuguese capital is an exhilarating experience. The food scene here is constantly evolving and you can find everything from a Michelin-rated restaurant to a more causal, old world taste in street lined cafes and bistros. 
One thing you do not want to miss is experiencing the food and music at a Fado restaurant. I was happy to join my friends for a dinner at the very popular Casa de Fado. Here we were able to sample local dried salted cod fish, sea bass, roasted leg of lamb and local baked desserts.
But the real winner was the amazing musicians and singers that serenade us with nostalgic and melancholic Fado songs possibly originating from Portuguese medieval troubadours in days long ago. 
Wheels Down: 
Lisbon is a charming, vibrant and colorful city filled with historical and unique architecture, interesting cobblestone streets, quaint cafes, famous Fado restaurants, and spectacular views from the numerous hills within the city. 
This is a perfect place to spend several days before venturing out to the countryside of Portugal. Take a short trip to Sintra with its forested terrain, astonishing palaces, medieval castles, and wonderful eating spots. You might also, want to visit the town of Carcais and the beautiful beaches of Praia do Guincho and Steubal. 
But one place that you'll definitely want to visit is the Duro Valley for some of the most excellent Portugal ports and wines. The best way to see it this region is via a river cruise. But I will have to leave that adventure for another Post Card… 
Wishing You Safe Travels,
Jessica