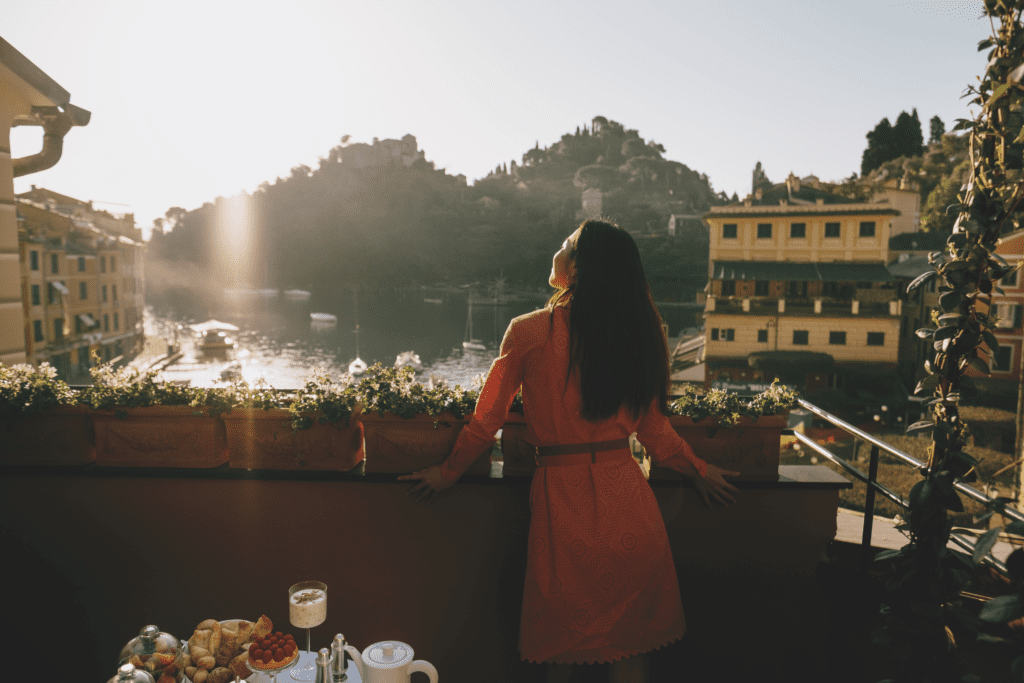 POSTCARDS FROM JESSICA
To: Those Looking To "Check-In" To The Golden Age
From: My Private Terrace In The Splendido Mare Portofino
Dear Friends,
Pack Your Bags: 
As you know, wherever you travel hotels are going to be part of your itinerary. Even if you take a cruise there is a good chance you'll need to fly in a day early to readjust to time zones and stay at a hotel at your embarkation port. 
I know that most of us are very familiar with the well marketed big hotel chains: Hilton, Marriott, Hyatt, Ritz Carlton and the Four Seasons. Though these are all good choices, they don't necessarily offer something different or distinct about their location. When I travel I want to park my luggage somewhere where I can easily feel the ambiance and culture of my destination. 
I have several hotel groups (I really dislike referring them as "chains"), which I often gravitate towards for myself and my clients. One of these is the Belmond Hotels. They are unique in their location and unique in their cultural physicality. Imagine staying in a renovated monastery, an ancient castle nestled in the Tuscany countryside, or sleeping in a luxurious treehouse overlooking the golden beaches of Bali. It simply doesn't get any better than that! 
Your Hotel Road Map: 
With over two dozen amazing hotels throughout the world it will be hard to pick just a few to illustrate how wonderful these accommodations are…but I will try! 
First Stop: Peru  
If you haven't been to Peru…please plan on it soon! There are six magnificent Belmond hotels including two adventurous railroad experiences. I've personally stayed at three of their hotels and traveled on their Hiram Bingham train. 
I recommend that once you arrive by plane you rest your body at the Miraflores in Lima. This is a beautiful hotel located on the beautiful manicured Malecon clifftop park with impressive views of the Pacific Ocean coastline. Standard accommodations are the generous Junior Suites at 484 sq. ft. Or you can simply go first class with the Club Class suites and have access to the executive lounge on the 10th floor, open 24/7. 
Of course when visiting Peru, you need to go to Machu Picchu! But to get their you'll need to take a short flight to Cusco. I highly recommend the Cusco Monasterio whereby you'll be transported back 300 years when this was a functional monastery. Please do yourself a favor and request an oxygen-fed room to help ease the altitude. 
Once you arrive at the foothills of Machu Picchu the Sanctuary Lodge is the place you'll need to stay in order to gain the first entry access into this historical site. Trust me, you want to beat the onslaught of crowds later in the morning. If your itinerary charts to the beautiful Sacred Valley then stay at the Rio Sagrado Hotel which sits magically alongside of the Urubamba River. 
Second Stop: Italy
If Northern Italy is on your bucket list then the Castello di Casole Estate is a strong consideration for your travel plans. 
This timeless refuge located deep in the Tuscany countryside brings a sense of truly living like a local. Here you'll experience aristocratic rural life paired with contemporary luxury as you navigate the 4,200 acres 10th century estate. At this Belmond Estate you'll have a choice of 39 indulgent rooms and suites each uniquely enchanting in their own right. There's also plenty to do. Imagine daily walks among the olive groves, visiting local farms, hunting for truffles, scenic hiking or bike rides, or just simply sharing moments with the locals at a postcard village. Man…I really need to get back there soon! 
I have two other favorite Belmond hotels in Italy. The first is the magnificent Splendido in Portofino on the west coast of Italy. This truly cinematic restored 16th century monastery sits in the hills overlooking this small picturesque village. As you unwind in an award-winning spa or soak up the sun besides a shimmering pool you'll instantly understand why Richard Burton and Elizabeth Taylor spent a lot of romantic moments here. Also, the Ristorante La Terrazza is a must dining experience whereby the fresh locally-sourced ingredients are cooked to perfection and the flavors of Italy will whisk you away. 
My other favorite Belmond hotel in Italy is the Grand Hotel Timeo in Taormina Sicily. Having spent time here I can assure you that your first breakfast on the terrace will be a lifetime memory as you gaze across the coast towards Mount Etna. The best part of your stay will be time spent traversing the cobblestone streets throughout this quaint Italian village. 
Third Stop and Beyond: 
As I had mentioned there are too many Belmond Hotel destinations to cover in this column. But from the timeless charm of the Cipriani in Venice to the Mount Nelson South Africa, the La Residence d'Angkor Laos, Jimbaran Puri, Bali, or the Maroma Riviera Maya, Mexico, you will never be disappointed by the accommodations, service, and dining at any of these five-star luxury group of hotels. 
Wheels Down: 
Regardless of your global destination please consider having your wheels touch down at a Belmond hotel or resort. With over 35 ultraluxe hotels, 7 trains, and 3 river cruises and restaurants in 24 countries, there is simply no reason to miss this truly unique opportunity. Exclusive, timeless, immersive. Each Belmond hotel has its own story to tell and they are simply waiting for you to just open the page…
Wishing You Safe Travels,
Jessica