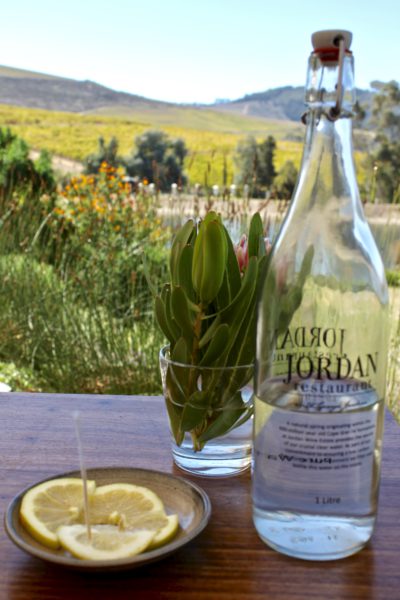 POSTCARDS FROM JESSICA
To: Those Seeking A Culinary Enlightenment
From: Cape Town South Africa 
Dear Friends,
Pack Your Bags: 
When you envision a trip to Africa, most often you are met with a vision of crossing the savannah on a guided safari to see the most majestic of animals. And while this may be the epitome of the perfect trip to this spectacular continent, I am here to tell you about a lesser known adventure but one definitely not to be missed, the food lover's paradise that is dining in South Africa. 
South Africa is more urbanized but in a distinctly subtle way, with both wine and food serving as its catalyst. Yes, like any distant country there are varieties of interesting vegetables, proteins and innovating cooking techniques. But, what sets African cuisine apart is that it is a conduit for connecting the past and the present. 
This can only be truly felt as you experience sensational dining from the waterfront of Cape Town, or up the hill to the vineyards of Franschhoek, to the incredible game reserves. Your culinary adventure awaits…   
Your Road Map:
There is a lot to see in South Africa, but there are a few areas not to miss if your passions point in the direction of cuisine and wine. To give you a clear view of the Best of South Africa allow me to break it down into three distinct regions. 
Cape Town Cuisine: 
Cape Town is like no other when it comes to food. Its style of cooking and presentation leaves American cuisine struggling for some type of identity.  Here in Cape Town the emphasis is on quality not quantity.  To put it bluntly, this is a "no doggy bag town."
That's because most of the dining establishments are into small plates or tapas. Yes, you get less but I guarantee the taste is so much more! Fortunately, I was able to get into one of the top restaurants in town, the Pot Luck Club. 
The Pot Luck Club and its sister restaurant, The Tasting Kitchen, are sought after by not only locals but also the many visitors who travel to this very cosmopolitan city. Here it's all about the "perfect bite." The cooking techniques and complexity of the food combinations give truth to its name. 
Here are few examples of my tastings from the Pot Luck's kitchen: Asian Style Beef Tartare, Doenjang Glazed Beef Short Ribs, BBQ Broccoli Mops with Blue Cheese,
Duck Breast with Naartjie and Yuzu dressing, Smoke Pork Belly with Kimchi Apple and finishing with a Malted Chocolate Fondant Soufflé. 
Sipping At The Vineyards: 
As I am whisked away in my private car to the beautiful winelands of South Africa, I reflected on how diverse this country is it relationship to its terrain and cuisine. The winelands of Stellenbosch and Franschhoek are like Napa Valley on steroids. The scenery is endless wonders of mountains, lakes, wine estates and of course numerous vines. 
From fruity Chenin Blanc to the ultimate of Shiraz grapes, it's clear that South African wines are undervalued. I predict this will change and change soon. Here the South Africans love their wines and demonstrate this passion by limiting the wine imports from other countries. 
Once you've tried a Stork or Gravel Hill Shiraz from Hartenburg winery you will understand the reasoning of my newfound desire for these varietals. From proprietor blends from Ernie Els winery to a Chardonnay at the Jordan lunch terrace, the wines and food just don't get any better!
My African Game Lodge: 
As they say in any event…it's good to finish BIG! And at the Singitia Game Reserve I did just that! From viewing the Big Five out in the bush to relaxing in my private villa along the banks of a small animal-occupied river, nature doesn't get any closer! 
As for the food and wine I experienced in the tree balcony of this lovely lodge, it is hard to describe. Choosing freely from a complimentary 5000-bottle wine cellar is the ultimate winos dream come true. I'll never forget the 2004 bottle of Shiraz from the Cederburg Wine Estate or the lingering crispy citrus of the legendary David Nieuwoudt 2013 Ghost Corner "Bowline" (blend of Sauvignon Blanc and Semillon)!  
As for the foods, the first night Braai (African BBQ) was a stand out. Grilled ostrich and Kudu (venison) were spot on in taste and texture. Dining elegantly on dishes such as Squid Ink Risotto, Sanga beef fillet, and garlic lemon prawn skewers left me wanting no more. On my exit I gave them all a big high-five! 
Wheels Down: 
Like with most of my travel to foreign destinations⎯it's all about the food and wine. Trust me, I'm not trying to live up to the reputation of Anthony Bourdain, but at times I imagine being him. Eating and drinking in different countries and cultures brings an experience that no ethnic American restaurant can offer. It's like having boots on the ground. You feel and taste what makes up the fabric of these indigenous people. And while my visit to this beautiful continent left me feeling quite humble, I can safely say the food and wine are anything but.
Wishing You Safe Travels,
Jessica