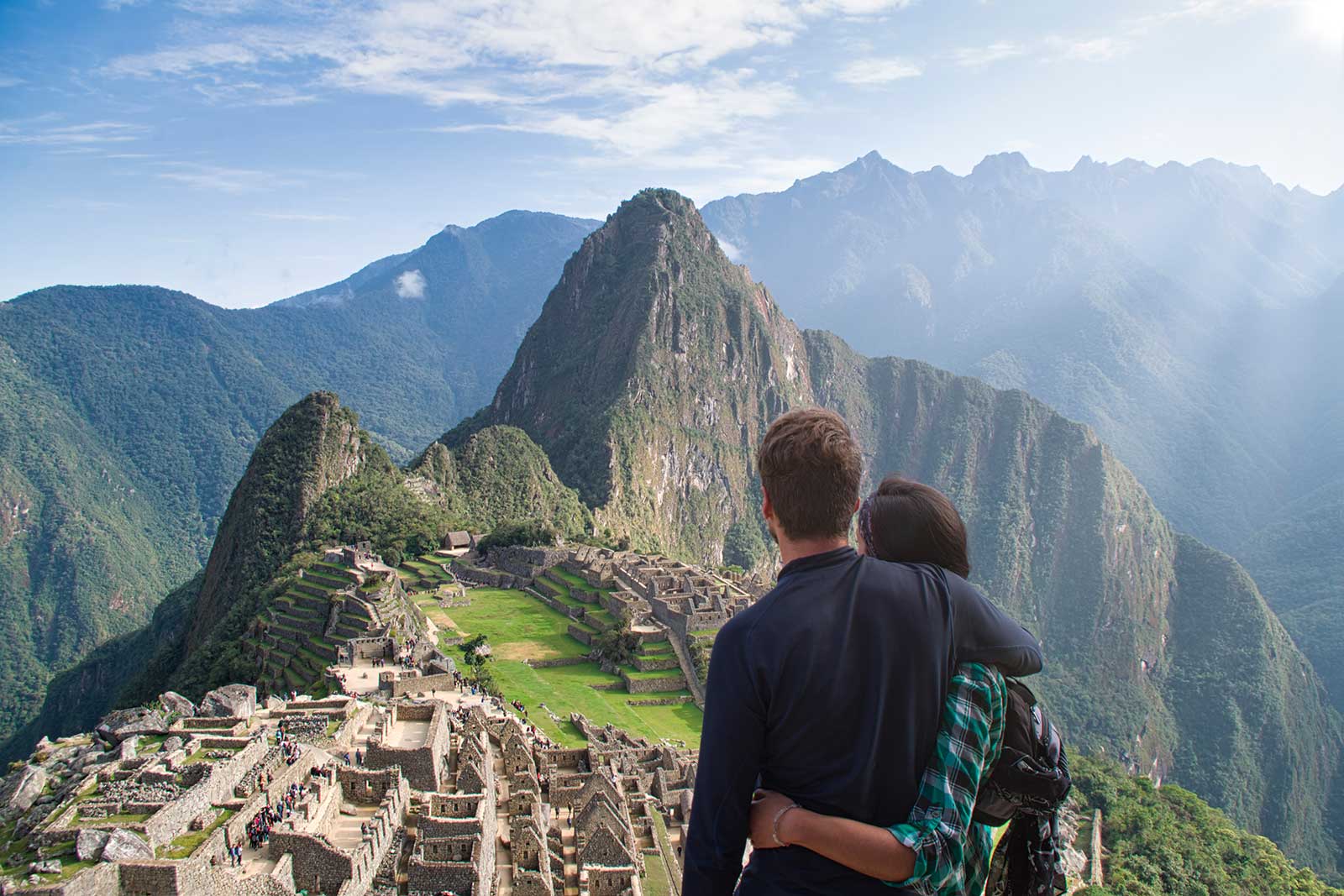 POSTCARDS FROM JESSICA
To: Those Not Afraid Of Heights, Seeking Mystery and Ancient History…
From: The Hiram Bingham Train, Peru, Headed For Machu Picchu
Dear Friends,
Pack Your Bags: 
As I sit at a desk in my private boxcar, I can hear the rattling of steel pounding the tracks of our train as it winds itself lower in altitude but higher in spirit. This is one adventure you can't miss. It's hard to believe I'm on my way to one the most iconic destinations in the world. 
For decades I've seen everyone else's photos of the mystic clouds descending on the sacred Machu Picchu mountain tops. Now is my time to travel on the renowned luxury train of the Hiram Bingham, stay at the celebrated Inkaterra Lodge, and then walk the ancient ruins of the Inca Indians. 
Once you make it to this beautiful country you'll realize that from Lima, to Cusco, to the Sacred Valley, you will not only visit a country filled with history, but one that still till this day is truly a "living culture."  
Destination: Cusco Peru
Most folks believe that the Machu Picchu mountains seem to be a distant destination only for the young and strong. Maybe twenty years ago that might be true. But today it couldn't be any easier to see this historical sight.
You can either disembark from a cruise or simply fly to Lima Peru. To get to Machu Picchu you simply take a short flight to Cusco and then a car or train to the foothills. Or, if you feel like Indiana Jones, you can walk the tedious paths of the Inca Trail. I personally would need to do a lot more training for that kind of adventure. 
One thing you must know is Cusco is actually at a higher altitude than Machu Picchu registering at 11,000 feet above sea level. Thankfully, you can stay at one of the luxury hotels offering oxygen-fed rooms to help offset any chance of altitude headaches. Since you are there for only a day or two, you'll have nothing to worry about. 
Your Road Map: 
Getting There: 
Now your adventure starts! I advise that you not miss the chance to travel on the Hiram Bingham train. This luxurious train winds itself through the valleys and mountaintops of the Peruvian Andes alongside the Urubamba River. Traveling this train is a throwback to days gone by. Enjoy a lunch or dinner in an elegant dining car as you watch unmatched scenery display how life is lived in this part of the world. Sip a Pisco Sour, a Peruvian cocktail, in the open-air observatory car as a live band beat their cajon and tambourines of international music throughout the trip.
The Mountain: 
Once you arrive at Aguas Calientes, the small city at the base of Machu Picchu, you'll find your way to my favorite hotel.  The Inkarra Hotel is nestled deep within a cloud forest. Spectacular in every way, you'll be treated to great hospitality and cuisine that's indigenous to the region. It also has one of the largest native orchid collections in the world. 
I totally recommend you get to bed early. The best time to get to the ancient citadel of Machu Picchu is when the rooster crows. To beat the onslaught of crowds you'll have to be one of the first on top of the mountain. Your private guide will not only offer you the amazing history of this 7th New Wonder but also navigate you to the best photo spots. 
The Valley: 
With one of the most pleasant climates in the Andes, the Sacred Valley is where the Incas established their farmlands to produce a great variety of corn, potatoes and local goods. Take a visit to Ollantaytambo where you can climb the Incan fortress and soak up the serene surroundings. 
As you ramble down into town you'll wander the quaint village's cobblestone streets and visit the market full of vibrant woven goods, stunning crafts and tantalizing street foods. Go ahead and follow your nose and eat like a local. The creamy corn soup is amazing and how can you go wrong with a traditional and authentic fresh empanada from the oven. 
Wheels Down: 
There is so much more to see in Peru! But don't worry, this magnificent country will have you returning again. Maybe this time you can explore more of the Andes Mountains or stay on a boathouse navigating the uncharted waters of the Amazon. Or, spend a few days in the Tambopata Jungle or experience time on Lake Titicaca. 
One thing that stands out most to me from my trip to Peru are the people and the cuisine. I still believe that some of the best food I've ever eaten has been in Peru.  Visit Lima for its world-renowned chefs, the experience of eating an Alpaca steak, or the local delicacy "cuy" (guinea pig), or simply marveling at the hundred varieties of potatoes, corns and vegetables. 
All I can say is: Buen Provecho! 
Wishing You Safe Travels,
Jessica