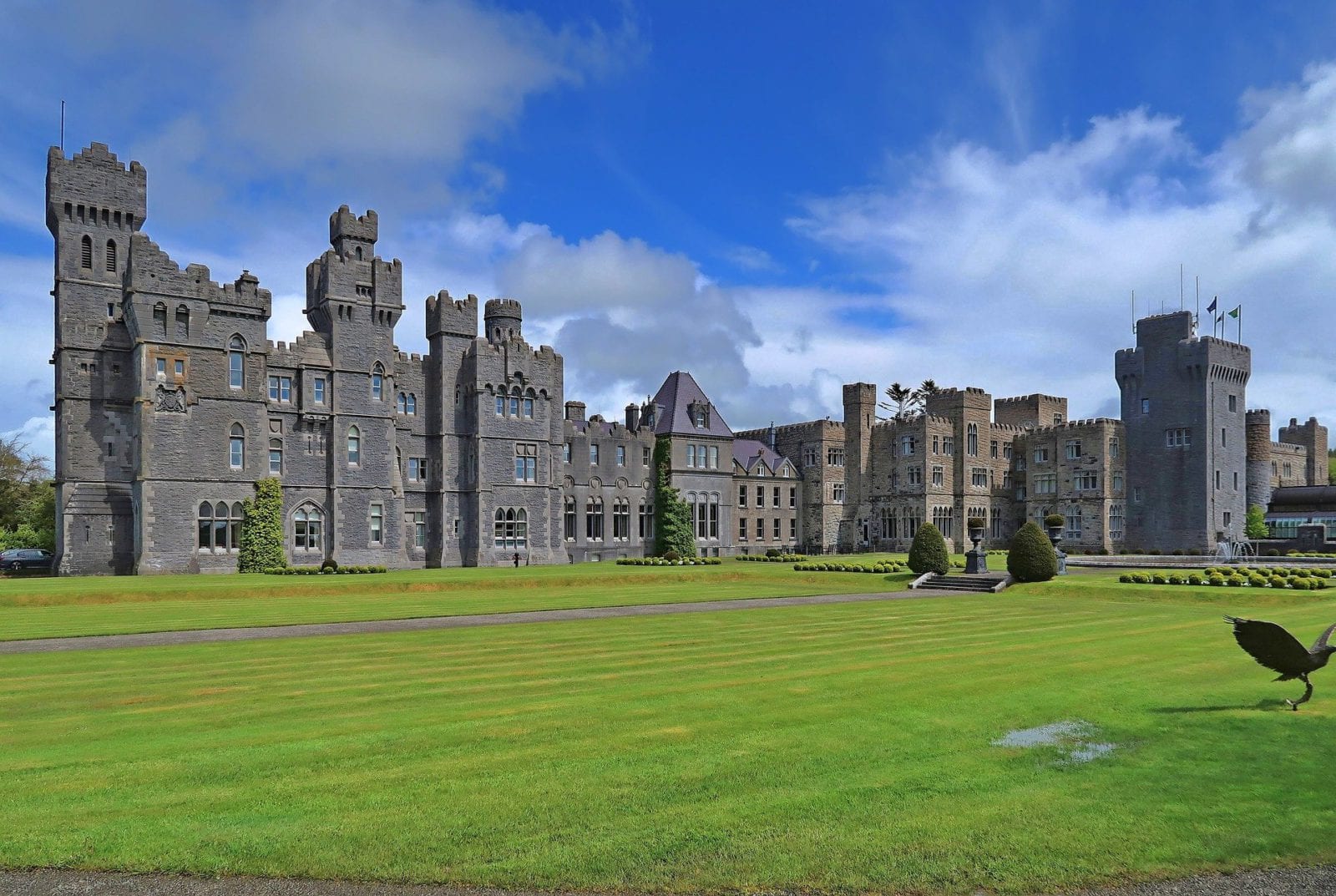 POSTCARDS FROM JESSICA
To: Anyone Wanting To Live Like Royalty
From: My desk at the Ashford Castle, Ireland
Dear Friends,
Pack Your Bags: 
When I first thought of traveling to Ireland I envisioned bumping into leprechauns, kissing the Barney Stone, drinking my share of Guinness, and singing along with a trio of fiddle playing musicians. With the exception of the leprechauns, I didn't miss a beat. 
There is something intriguing about Ireland that's hard to describe but better experienced. Most would gravitate towards the rolling green hills or the jagged stoned sea coastal cliffs. For me it was the people. 
The down-to-earth, folksy, high-on-life disposition of these people is almost contagious. Everywhere you go in Ireland you find a "welcome mat" waiting for you, either in hotels, restaurants, bars, street stores or even their homes. 
Sure, there are plenty of castles, churches, and natural wonders that await you in Ireland. But, the friends you'll easily meet here will have you wanting to pack your bags and move. If this location isn't on your bucket list…put it there. And stay more than a few days! 
Destination Cong Ireland: 
When you finally decide you want to go to Ireland you can't make the mistake of not staying in one of their amazing castles. There are several great ones but my favorite has always been the Ashford Castle. The Ashford has a long history and I will give you the cliff notes version now. 
Built in 1288 by the Anglo-Norman de Burogo family, then passed on to the famed Guinness family as a retreat and converted into a luxury hotel in 1939. Now eighty years after the first guest was welcomed and $75 million invested into renovations, the Red Carnation Hotel group has created one of the most celebrated country escapes. 
Your Road Map:
I recommend getting here at the end of your itinerary. That's unless you are on a small luxury prearranged tour. From Dublin you will most likely head Southwest on your route to visiting most of the memorable towns, golf courses, and historical sites. 
Once you pass through Galway you'll be moments away from entering this castle situated on 350 wooded acres hugging the water's edge of Lough Corrib. This castle is much more than pristine landscaping, turreted towers, sweeping staircases, and even a moat… it's the perfect place for a legendary Instagram shot! 
Hidden beyond the castle walls you'll find a medieval resort. As a guest you'll be able to frolic through the gardens, go horseback riding, motor around the lake, try your hand at archery or clay-shooting, and even hit the links!
As for your accommodations, all 83 rooms and suites are individually decorated to make you feel you are living the life of a prince or princess. For those looking for something extraordinary and opulent, I would suggest the Hideaway Cottage for a private experience on the grounds. Just as spectacular is the Reagan Presidential Suite with the original fireplace, an antique four poster bed and panoramic view of the Lough Corrib.
A castle experience is not complete unless you dine like a Queen (or King!). You can't miss a dinner in the elegant Ashford Castle's very royal and formal restaurant, the George V Dining Room. Live piano, tuxedoed servers, Victorian table-setting, and of course food presented from a silver-plated dome cover. 
If that doesn't make you feel like royalty I wouldn't miss the afternoon tea in the Connaught Room. The savory tea, along with sweetened treats delicately crafted from a seasoned pastry chef, will have you fantasizing the days of Downton Abbey. 
Unforgettable Moments: 
If you're an animal lover like me you won't want to miss the Falconry experience at the Ashford. There are only a handful of locations around the world that you can personally have the opportunity to do the labeled Hawk Walk. 
For an hour, guests staying at the hotel can stroll around the estate with an instructor and a few of the school's resident Harris hawks. Imagine, a magnificent hawk perched upon your extended gloved-arm waiting for you to signal it to take flight. A push of your arm, a rush of adrenaline, a feeling of freedom as your Hawk ascends into the trees and only to return in a minute for its reward of obedience. It doesn't get any better than this! 
Wheels Down: 
Regardless if you are the glass-slipper type or not, everyone likes to live like a Queen or King even for a few days. Here at the Ashford you too can feel like Cinderella. The one thing I will remember is that the Ashford castle is much more than old walls, antique rugs, and steel knighted statues. It's the attention to detail, the pride of the staff, the charm and hospitality of these Irish norms that make you feel like days long forgotten. A time when formality, courtesy, and decency rule over modern commercial desires. Don't miss out on your chance to travel back in time and experience something truly unique. I know I feel lucky that I did!
Wishing You Safe Travels,
Jessica